Location : Ministry of Culture Nanhai Studio
This work is located in the office of the Nanhai Studio of the Ministry of Culture. As an open area, It has large, medium and small meeting rooms and reporter working areas, which provide artists and the media for meetings.
​​​​​​​
此作品位於文化部南海工作坊的辦公室,為台灣文化部對外界聯絡的管道,其設有大、中、小會議室及記者工作區,提供藝文人士、媒體來此地會議和使用。
The work presents Taiwan's unique species to symbolize all kinds of people in Taiwan's culture: Sakura salmon, Taiwan blue magpie, sika deer, Taiwan leopard, Taiwan macaque,Leopard cat and Taiwan's national butterfly. Each one is advancing with its own different appearance.
.
以台灣特有物種去象徵

驅動台灣文化中形形色色的人們

:
櫻花鉤吻鮭、臺灣藍鵲、梅花鹿、臺灣雲豹、台灣獼猴、
石虎、寬尾鳯蝶,每一個人都以自己不同的樣貌前進。

Galloping forward from the gray jungle, jumping, migrating, flying, and heading in a bright direction.  Knowing there is a space, it is free, and has a dream worth catching.


自灰暗叢林向前方奔馳、跳躍、洄游、飛翔,朝向一個明亮的方向前進。我們很清楚那裡有一個地方,那裡很空曠、很自由,還有一個值得我們去追逐的夢想。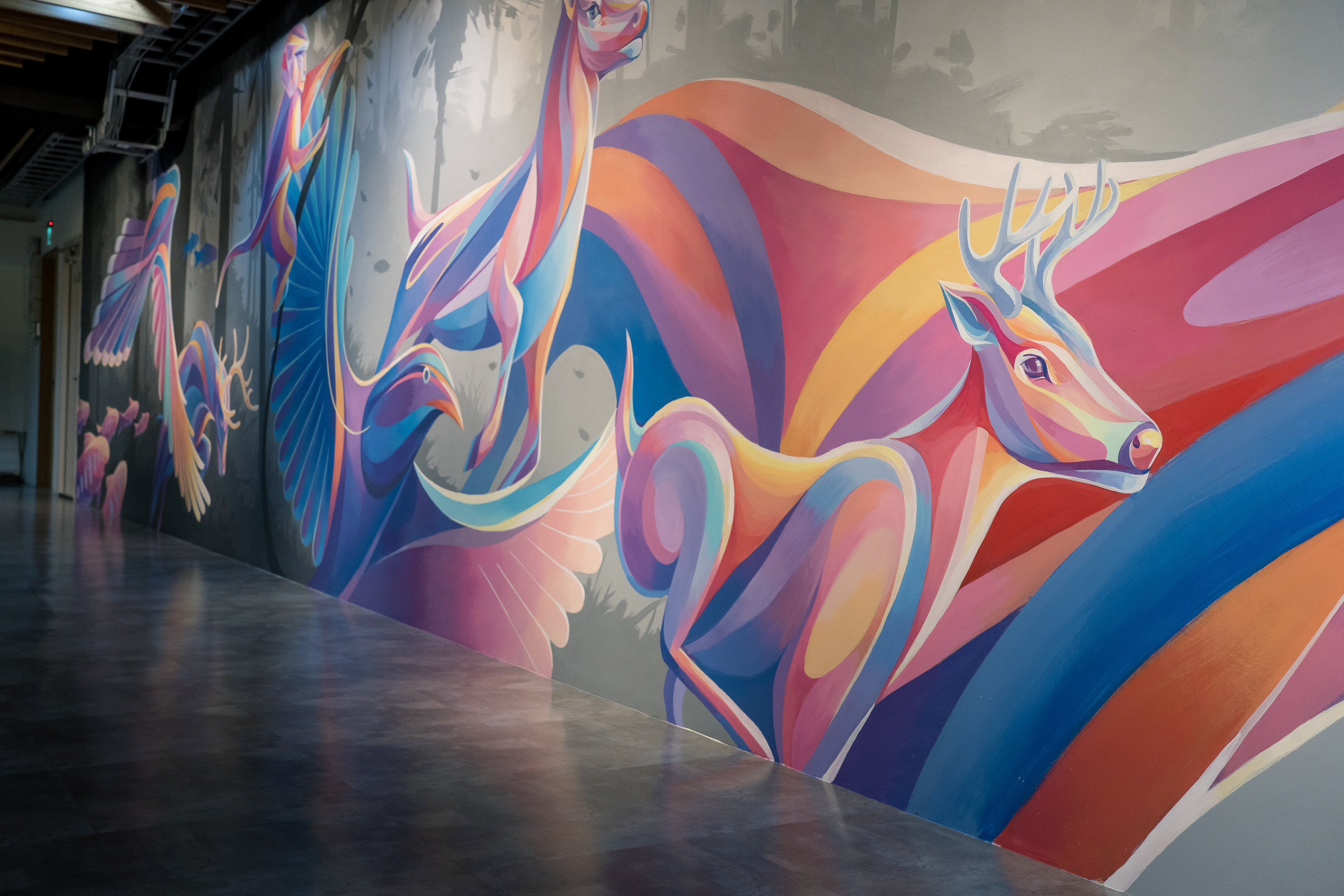 I think culture it is an ongoing process. It is the process that presents continuous efforts on the road of creation, and the integration and baptism of multiple cultures.


與其說文化它是什麼,不如說持續進行,是那些在創造的道路上不斷努力、經過多種文化的融合和洗禮的這個過程。
" No Matter How You Moved Forward, We Are All Part Of This Culture."
『 不 論 你是 怎 麼 前 進 的 ,我 們 都 是 這 個 文 化 的 一 份 子。』
​​​​​
STICKERS   GIFT   PACKAGE
A gift package contains all the animals from this mural. To acknowledge those people who work hard on the road of creation.
這禮物盒個蒐藏了這面壁畫裡的每一隻動物,用來示意那些不斷在創造的文化人們。